CitrusKiwi's Web Design, Internet & Marketing blog
Get hints and tips about web design, SEO, and things internet. We also discuss online security issues, showcase new client websites and offer hints on marketing and networking.
Press "1" for English...
Feeling a little low today? Try this link to cheer you up - never fails with me! Warning, you may need an Australian slang book handy.
https://www.youtube.com/watch?v=syPSHe0kzMs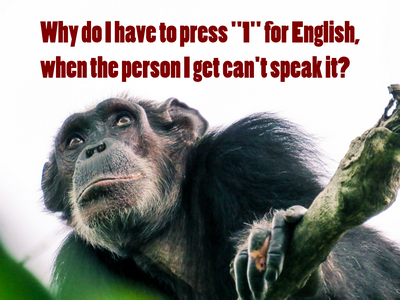 How many times, have you phoned "customer service" and gotten someone you cannot understand. As an "import" it probably happens to me a little more, especially if that call center is based in the South, Though I rang DirectTV last week and got a very helpful girl based in Mississippi, and, while she had a strong Southern accent she was very understandable.
Everything we do in business, especially how we interact directly with client and potential clients impacts our businesses. I cannot understand why companies have "customer service" departments where the customer is clearly unimportant and service is a superfluous word. Yes, no doubt they are cheaper than hiring an American with English skills to do it, but does anyone in management or HR really stop and think what image this portrays to their customers?
My wife used the phrase "status quo" once, and I challenged her that there is no such thing. Everything we do, say, hear, read or experience molds us in one of 2 ways - for better or for worse. We never stay static. And neither do your customers. Everything you do to, or for, them (or don't do to, or for, them) will shape their perception of your company. This is what so frustrates me about so many customer service departments. They are neither, and those companies blindly blunder on believing they're giving value to their customers. Sure, when you live in Phoenix, your power company doesn't have to care, neither your TV or internet provider. They have a virtual monopoly. We, as small business, don't.
So think of all your actions in business as perceived by a customer. A customer only listens to one radio station - WIIFM - what's in it for me? If we craft our marketing, anf temper our talk with that station in mind, then our customers will love us for it. This includes all phone and written communications, the state of our clothes and vehicles when we arrive at their home or business, our brochures, business cards, invoices and, of course, our websites. They all need to be built with WIIFM in mind.
The great news is, so few companies do customer service well (if at all), that it's relatively easy to "do better than most" and stand out from your competitors. Just think, "What can I do in 5 areas, to be 10% better than I am today?" Your business will grow, and your customers will love you. And when they love you, they will refer you.