I've just flown back in from New Zealand yesterday, after a successful pleasure and business trip there.  Because the Internet knows no borders, it's very simple for me to work for clients in any country, and that was part of the reason for the trip to NZ - to visit existing, and cultivate new, clients.  To this end, I had my trusty WD passport HD with me, so I could still access important documents.  There ends the good news!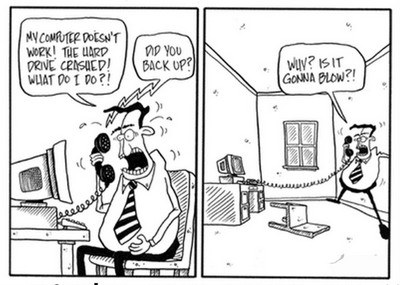 The passwords document I had lovingly created many months ago had not been updated, due to my own failure to do so.  So I couldn't access the backends of many of my clients sites, nor get to them via FTP either!  Fortunately I didn't really need to, so there was no real drama, but there could have been.
So my "life saving tip for computer users" is to back up, back up, back up!  I run 4 copies of all my important documents.  I have them stored in 2 separate places on my computer's HD, on a network HD (these are cheap and a great way to get a little "remote" with your back ups), and a 4th copy on a site called SugarSync.  I like SugarSync as it means I can access my documents from anywhere, including my iPhone, and it's free.  By doing a few simple tasks (inviting friends and the like), you can increase your storage capacity from the initial 5Gb to 8Gb.
And I never lift a finger to do my back ups, except for the password document... well, I failed to lift a finger on that, much to my disgust!  But, for the rest, how do I accomplish this?  Again, I like free, so I found a great little program called "AutoVer" that monitors files and folders that I specify and backs them up on the change of set parameters.  Now I don't have to worry about whether my work is safe.  Between SugarSync and AutoVer, I know I have safe and secure back ups whenever I need them.
Don't get caught out without a current back up.  Storage is cheap and easily set up, and can save you serious heartache down the road.