Corporate Website Design

There's a number of key differences when approaching corporate website design compared to small business/Mom & Pop website design. While it's very true that there are also many similarities, these differences mean that special care must be taken when designing corporate sites.
What areas are unique to corporate website design?
Who can sign this off?
When dealing with small businesses, the person we speak to at the counter, or in the shop, is usually the owner. They're also the HR person, accountant and a myriad of other jobs. When working with corporates, there may still be only one person running the project, but the trick is knowing who they are and ensuring we really are speaking to the right person.
However, quite often we can be dealing with 2 or more who are co-managing the new site. In that case, good progress reporting and timeline definition are important so all members of the client's team can see where we're going, and where we are right now. Just as important is for us to clearly define exactly what specific roles each client team member is handling so there's no wasted effort, or gaps, in the process. We use a specialized piece of software to accomplish this. Clients can send requests, see our requests, reply, attach files, and quickly see just what they need to do, or notes that we've made. No wasted time emailing or phoning us, but you're always informed!
Geolocate your branches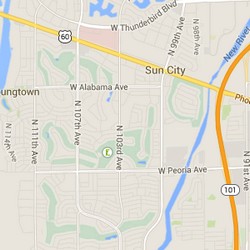 Say you're a restaurant with branches all over the USA. You need to be easily searchable in, for example, Phoenix. But even more than Phoenix, you need to even more tightly geolocate your business to a specific area of Phoenix; Surprise, Glendale, Scottsdale. Few people will search for Pizza Phoenix, they'll search for Pizza Surprise. And, even worse, good luck ranking for "Pizza" (about 538,000,000 results on Google).
Think about what's around you. What other businesses are well sought after that you can get traction on? Are you near a stadium, a movie theater, or a music venue? What regular events happen in your neighborhood? Street fairs, farmers' markets, flea markets. All these MUST be on your branch webpage. People are searching for these. Promote them on your page (preferably with a link to their page so you don't waste being found) and you can use their success to fuel yours.
Don't forget title tags that geolocate your branches. Title tags are the 50+ characters that appear in browser tabs. These are POWER in search engine's eyes. Make sure they specifically locate your strore/branch geographically.
I dunno, search me!
Search, search, search. Once you capture a surfers attention, make it easy to find their nearest location. The aim with
your site is not to make them play guessing games or work hard. Make it simple for them to find where their closest store or branch is. Making it easy for potential customers to find you is critical with any business. With corporate sites, it's even more so as site visitors can be from anywhere and need to eaily identify their closest location.
But I had Yak on Rye at your XXXX location!
Some company's offer the same goods and services at every location. Others, restaurants are particularly good examples of this, have localized offerings or seasonal ones. This needs to be reflected in each branch page if the offerings are different. If not, there should be an easily accessible, centralized "menu" that covers all branches.